422nd NFS Northrop P-61 "Black Widow" Night Fighters Intercept V-1 Flying Bombs 1944
*P-61 Black Widow Night Fighters in Color

Color New! Exclusive production from recently discovered materials. Very rare color P-61 footage shot at the end of World War II. See the 422nd NFS operating out of Florennes, Belgium, where you'll get an up close look at P-61 "No Nothin II." Then you'll move on to the Pacific and the island of Saipan, where you'll see legendary 548th NFS P-61 "Bat Outa Hell." One the highlights of this program is P-61 gun camera film showing a night attack with bombs, rockets and 20mm cannon


* Flying the P-61 Series Airplane: The Northrop "Black Widow" Night Fighter


* Night Vision for Airmen Jackie Cooper stars in this short film for night fighter pilots on the does and don't of a successful night fighter interception. A dark film on a dark subject.


* And a 64 page P-61 "Black Widow" pilot's manual in .pdf file format with photos, detailed systems diagrams, performance charts, procedures & more.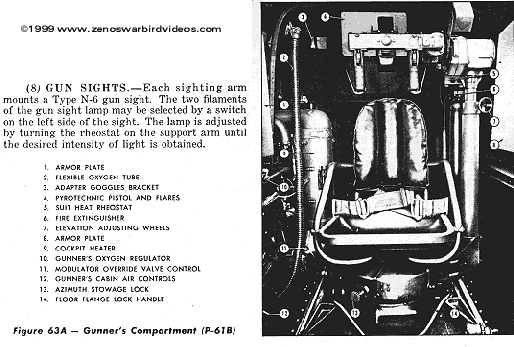 More neat P-61 stuff! Performance charts, cockpit photos, systems diagrams and more . These are images taken from original World War II pilot & technical manuals for the Northrop P-61 'Black Widow" Night Fighter.
(Get the complete 64 page P-61 pilot's manual on our new P-61 DVD)
Cutaway Diagram -- Major Components