Hook Down, Wheels Down

The Story of the US Navy's Aircraft Carriers

(1968, Color & B&W, 55:00)N
This fine documentary was produced by the Department of the Navy to celebrate the first 50 years of carrier based aviation, with an emphasis on World War II operations. The Navy Archives were opened to provide footage ranging from precarious landings on the old Langley, to the Battle of the Coral Sea, to CVEs facing the Japanese at Leyte Gulf and more. Along with some great Navy action, the highlight of the film are the numerous interviews with famous naval aviators, including George Gay, the only survivor at Midway from Torpedo Squadron 8, John Thach, who tells how he invented the famous "Thach Weave," Gene Valencia, a top USN ace, and Adm Wade McClusky, also of Midway fame.
-

-

Aviation DVD Video Store-\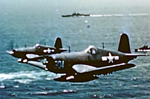 -
Don't miss our bestselling F4U Corsair DVD
Get "Hook Down, Wheels Down" plus -
* Offensive Fighter Tactics for Naval Aviators Learn the tactics US Navy fighter pilot's developed -- the hard way -- during the first two years of the War. Covers everything from situational awareness & assessing enemy capabilities to one-on-one dog fights and squadron tactics. Full of detailed illustrations & examples. A must have for virtual combat pilots and World War II fighter enthusiasts everywhere!

* How to Fly the Vought F4U "Corsair" "A big, tough, shipboard fighter." This was the plane flown by Pappy Boyington's infamous "Black Sheep" VMF-214 Marine squadron. Initially rejected by they US Navy as a carrier fighter, it was loved by island based Marine squadrons who found it to be both an excellent air superiority fighter and outstanding ground support bomber, a trait much prized and loved by the Corps. Known to Japanese pilots as "Whistling Death" for good reason, the F4U had an amazing 11-1 kill ratio The Corsair went on to perform with distinction through the Korean War and for the French in Indochina.

* The Saga of the Franklin This inspiring documentary shows how the gallant officers and men of the carrier Franklin overcame incredible battle damage inflicted by a devastating bomb hit to save their ship. Also contains rare and informative color footage of late war F4U Corsair carrier ops and daily life on board the ship.

* A high resolution reproduction of a 64 page F4U Corsair pilot's manual with photos, systems diagrams, performance charts, flight procedures & more

-

If you're a naval aviation fan, stop by Zeno's Flight Shop for the memorable documentary "The Fighting Lady" on our Fighting Lady/Carrier Ops DVD. And there's even more excitement on our new